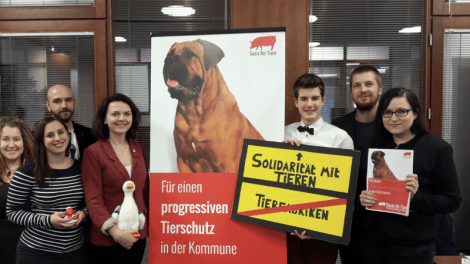 Group picture from Sozis für Tiere at the Landesparteitag 2015 from the Social Democratic Party Hesse.
Freedom, Equity and Solidarity
The members from Sozis für Tiere are also involved in the Social Democratic Party of Germany (SPD), the youth organization from the social democratic party (Jusos) and the youth organization at the University (Juso Hochschulgruppen). As a part of the social democratic movement, we support the idea of a free and solidary society actively. Nobody of us joined the social democratic party with the intention to improve the animal protection. At first, we also had other motivations. We had the vision of a more equitable society. But then we noticed very quickly that's not enough.
The exploitation of the animals is a topic which can get lost very quickly in the discussion of a more equitable society. Further, the radical social democratic idea of animal protection has not gotten implemented but it is part of historical amnesia to pretend like this never has existed. So, we want to renew the purposes of the radical social democratic animal protection. In our opinion, the social democracy should care about the animals for their sake and their right to live in freedom rather than just caring about animals because of the advantage we as human beings would have. It is just the right thing to do.
A new consciousness for treating animals in a better way is not going to develop itself, but instead, it is needed to fight for it in the society as well as in the social democracy. The social justice is essential when claims for progressive animal protection require a political majority.
A new consciousness of the social democracy can entail changes in more than one political level widely. With our engagement, it is possible to make these changes.
In a nutshell
We are a part of the social democratic socialist movement, and we support these principles.
We want to renew the historical ideas of social democratic animal ethics and want to fight against the exploitation of the non-human beings. We stand by the side of other emancipatory movements and engage against any kind of exploitation and oppression.
Animals are sentient creatures who have the right to live. But they cannot protect themselves so we, as a society, have to defend them.
We want to overcome the consumption of animals and are against the exploitation of them.
The consumption of animals is not a private affair.
We think that human beings make the habits of consumption, so they are changeable.
With our work we want to achieve a society where animals are not a means to an end but rather the welfare of the animals has to have priority.
We are open-minded to all kind of dietary habits.
We are the children of our century and our surroundings. We do not judge other people.
At our events, we only offer vegan food and drinks.